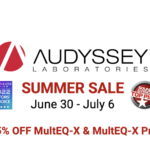 Audyssey MultEQ-X & MultEQ-X Pro July 4th Promotion
June 29, 2023
Kick off your holiday shopping with our deepest discount of the year on MultEQ-X! From 12:01am UTC on Friday, November 17 through 11:59pm UTC on Sunday, November 26, purchase a MultEQ-X license at 25% off for just $149 (regularly priced at $199). We're also offering a similarly tempting deal for MultEQ-X Pro with 25% off purchases of 5 or more licenses.
Audio enthusiasts and home theater aficionados alike can use MultEQ-X to tailor the listening experience on Denon and Marantz A/V receivers (AVRs) – no additional hardware required. Simply download the app to enjoy the latest room-correction technology from the company that changed the home theater experience.
MultEQ-X is a powerful room-correction solution from Audyssey, the company that for two decades has been perfecting the listening experience in home theaters, premium automobiles, mobile devices, movie theaters and countless consumer electronics products.
Visit the Microsoft Store to download MultEQ-X today, and follow the in-app prompts to purchase your license at a 25% discount.
MultEQ-X Pro is the Pro version of MultEQ-X designed specifically for professional A/V businesses and installers. It has all the same technical features as MultEQ-X, but it adds an improved licensing system, enhanced support, and discounted volume pricing.
Visit the MultEQ-X Pro order page and we'll automatically apply the discount based on the number of licenses purchased.
Want to get an early jump on the sale before it begins? Then you're in luck. Downloading MultEQ-X at the Microsoft Store is always free, so download today and set a reminder to complete your in-app purchase any time between 11/17 and 11/26. Thanks and hope you enjoy a happy start to the holiday season!